Sales Funnel Development – Take Your Business to the Next Level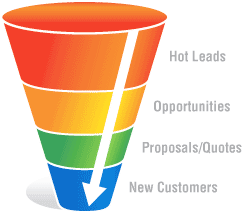 If your business's sales are lacking, then sales funnel development from Webati may be just the solution you are looking for. The whole purpose of having an online business is to produce measurable and profitable results, which assumes the form of sales and profits. If your website is not producing the results that you are looking for, then your website needs to be revamped and remodeled until it achieves the results that you want.
It is important to remember, during the sales funnel development process, that modern clients are going to be bombarded with more sales messages than ever before. Because they are assaulted with so many advertisements, most clients have a shorter attention span than ever before.
Fortunately for our clients, Webati has many years of experience when it comes to producing compelling sales copy and other techniques. Regardless of what industry sector your business might be in, we know what it will take to capture the attention of your target audience. Being thus, one of the first things we will do once we start working with you will be to restructure and rework your sales funnel development in a manner that makes it impossible for your clients to ignore it.
As a result of doing so, a visitor to your website will be guided through the sales process and brought to a psychological point where he or she is ready to make a purchase. Our sales funnel development process includes:
Increase your number of leads that can be converted
Dramatically increase the resulting sales that your business enjoys
Increase the amount of time that a visitor stays on your site
Produce a higher visitor value
With sales funnel development from Webati, your success will be assured. Everything that we do has been based upon proven and tested marketing methods that we have found worked well for our clients. There will be no guesswork involved.
You should never lose sight of the fact that your business's sales should be your number one priority. If you want your business to be able to adapt and grow to its changing surroundings, then sales funnel development must be a priority. To see how Webati will be able to assist your business, give us a call or send us an email today. Your initial consultation will be 100% free, and we will be able to discuss tested sales funnel process that multiplies your conversions, sales and profits in the quickest amount of time. Call us today!