Planning On Expanding Overseas? Why Australia Is Worth a Look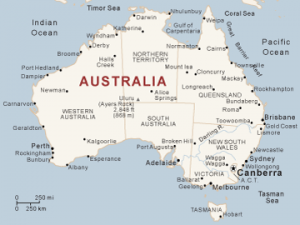 If you have thought about taking your affiliate marketing program overseas, Australia just might be a good place for you to start. Here, for the most part, the economy is booming. Significant rises in both technology and online spending have made Australia the new frontier for affiliate marketing. To be more specific, this country is undertaking an unprecedented shift in technology infrastructure. This shift is going to open a lot of new doors when it comes to e-commerce in general.
The Australian national government has recently undertaken a new initiative entitled the National Broadband Network. The end result of this initiative is that the citizens of Australia are going to be among some of the most well connected in the world.
In the United States, we're use to lightening quick Internet connections. In fact, we often take them for granted. However, keep in mind, that a 1 Gbps connection is a relatively new concept for most Australians. Once the initiative is completed, no home or business in Australia is going to be without high speed Internet connection.
In terms of online spending, this is a field that is experiencing a significant growth. In a report recently released by the National Australia Bank Online Retail Sales Index, online spending in Australia reached $1.17 billion for the fiscal year at the end of June 2012. As you can easily see, the combination of online spending and growth in technology is going to translate into a profitable and untapped market for affiliate marketing.
How to Take Advantage of the Affiliate Marketing Field In Australia
Attracting a significant following in Australia is going to be slightly more complicated than just setting up shop and waiting for them to trickle in. Here are 4 recommendations we, at Webati, have for those who are looking into breaking into this new market.
Set up shop to accommodate international shipping. In order to attract new clients in this market, many marketers are currently picking up part, or all, of the cost of international shipping to make their products more attractive to Australians. However, equally as important, is ensuring that your local shipping options reflect what Australians have grown accustomed too.
Create your marketing campaigns with a local perspective in mind. Australians do speak English, but it is a different version of English than what we speak here in the States. Dialects, idioms, and expressions are going to vary greatly between the two cultures. Make sure that the campaigns you create are going to translate well overseas.
Partner with a global affiliate network. In a perfect world, you should attempt to align your

affiliate marketing

efforts with a network that already has an established presence in Australia. The primary benefit to doing this is that it is going to allow you to tap into a source of local expertise. You will receive guidance that only a native of Australia will be privy too.
Ramp up your online presence. A recent study has shown that roughly 29% of adults in Australia choose not to make online purchases because they like to see and feel a physical product before making a purchase. While this situation is likely to change once the new infrastructure is in place, you are going to need to ensure that your website deliver a multimedia, interactive experience for potential Australian clients. In doing so, you will literally bring your product to life for them and alleviate their consumer concerns.
Even though the new infrastructure is not yet completed, now is the time for affiliate marketing entrepreneurs to put a marketing plan into place, so that they can take immediate advantage of these new opportunities as they arise.