Landing Page Design – Produce More Results With a Minimal Amount of Effort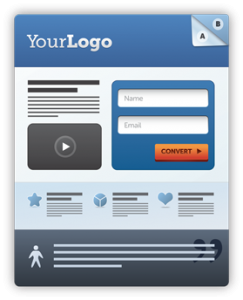 It would be difficult for me to stress just how important landing page design is to your business. In direct marketing, it is one of the most valuable tools at your disposal. Professional landing page design should clearly and effectively convey your business's image; however, most importantly, it should inspire a visitor to take direct and specific action in a form that is beneficial to your company.
As one of the premiere graphic design firms in California, we at Webati have the creative mind and technical expertise needed to create appealing, professional quality landing page design that will result in conversions for your business. Regardless of whether you want to capture email addresses, display free content, or create a full blown sales page, we can help.
The landing page design process at Webati goes something like this:
We will start with an initial consultation. During this meeting, we will determine and assess the goals that you want your current landing page to achieve, or we will create new goals for a landing page we design from scratch.
From the information that we gather, we will create a compelling message that appeals to your company's targeted demographic. From there, our team will work in conjunction with you, as the business owner, to create copy that conveys your company's message and that is optimized to produce the maximum amount of conversion.
Once the actual content has been nailed down, the next step will be to explore other design possibilities, ranging from images to fonts to other visual aesthetics. We will then produce mockups of your landing page design, so that you can give your approval on the direction we're headed in. Lastly, we will produce the final design.
If your landing page design requires advanced services, such as reports, ebooks, or videos, we can assist you there too. We will offer you the option of working with one of our professional copywriters to create unique, custom copy that will achieve the maximum conversion rates (a worthwhile investment if I do say so myself!).
Another option that you will have will be to have us set up your landing page for you, integrate it into your business's website, and create unique systems that will help track and optimize results.
In terms of landing page design, Webati has a lot to offer your business. Per the usual, the first step is to contact us today by telephone or email to set up your free, initial consultation. We look forward to working with you!