How Instagram's New Terms Could Negatively Affect Marketers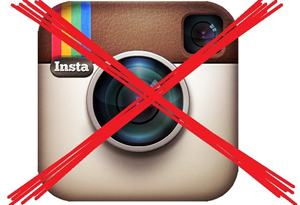 If you were to look at Facebook and Twitter posts of late, they would indicate that Instagram is finished. Because of the new terms of service being implemented in January, users are packing the proverbial bags and migrating towards other services, like Flickr and Snapchat. Among the new changes that Instagram is implementing are some that are designed to enable advertisers to have access to audience photos.
The news about the changes in Instagram's terms of service are less than two weeks old, so it is hard to say how it will affect user numbers in the long run, but if the furor continues, users could be leaving Instagram in droves before Internet marketers have a chance to reach them.
What Users are Upset Over
The biggest fuss is over alterations in the rights of photos that have been posted through Instagram. Here are a few sections of the new proposed terms of service:
"…you hereby grant to Instagram a non-exclusive, fully paid and royalty-free, transferable, sub-licensable, worldwide license to use the Content that you post on or through the Service…."
"To help us deliver interesting paid or sponsored content or promotions, you agree that a business or other entity may pay us to display your username, likeness, photos (along with any associated metadata), and/or actions you take, in connection with paid or sponsored content or promotions, without any compensation to you. If you are under the age of eighteen (18), or under any other applicable age of majority, you represent that at least one of your parents or legal guardians has also agreed to this provision (and the use of your name, likeness, username, and/or photos (along with any associated metadata)) on your behalf."
"You acknowledge that we may not always identify paid services, sponsored content, or commercial communications as such."
How Sub-Licensable Is Defined
The term that many people are focusing on in the aforementioned sections is "sub-licensable". Many users, including some industry leaders, are under the impression that these sections are worded as such, so that Instagram can become an oversized stock photo service. Instagram is paid for the use of the photos, but those who actually took them do not receive any royalties. Not cool, according to many.
Kurt Opsahl, an attorney for the Electronic Frontier Foundation, believes that the new terms of service open a Pandora 's Box of possibilities of abuse. In a blog post, he recently wrote:
"Instagram should reconsider this policy, because it conflicts with the three key principles we [the EFF] developed for social networking services: informed decision making, control and the right to leave."
Are the Children In Danger?
Section 2 of the new rules we quoted is the one causing the most concern among users. First and foremost, it grants Instagram the ability to use one's photos in ads without monetary compensation. Secondly, if the subjects of the photos are not old enough to provide informed consent to the photos' use, then Instagram is assuming that a legal guardian has given the OK. While the wording does not specifically address the topic of using photos with minor children in them, it does not do much to assuage the fears of parents about using content featuring a minor child.
Removing the legalese, Section 3 states that Instagram now has the ability to choose whether or not it discloses what is paid content and what is not to users. In the past, a number of Internet companies have gotten into hot water for non-disclosure, and it is a known fact that the Federal Trade Commission is not a fan of this practice.
If a user doesn't like Instagram's new terms of service, there is not an option to opt out. The only choice they will have is to delete their account.
Instagram, Advertising Opportunities, and Internet Marketers
This new controversy has arisen right as Instagram has aligned itself with Facebook to create a platform for sharing data between the two companies. Not much information has been released about what this new form of advertising will look like, but the new terms of service are quite similar to those that Facebook already has. As a result of the controversy, many users are now migrating to platforms and services that will enable them to download all of their former Instagram photos at once.
It is a well-established fact that users are definitely considering new services, like WhoSay and Snapchat. There is also a renewed interest in the once venerable Flickr. Flickr recently released an iPhone app that has garnered rave reviews, and many industry insiders are hoping that Flickr can eventually be restored to its former glory.
Internet marketers, advertisers, and industry experts are monitoring the situation closely, and there is a strong belief that both Facebook and Instagram will wind up revising these new terms of service, in an effort to minimize the number of defectors. However, if the defectors cannot be appeased, then social media users will move elsewhere, and the advertisers won't be far behind in following.