Google Analytics Setup – Measure the Success of Your Company's Website!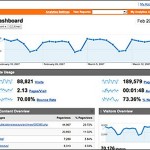 The information provided by Google Analytics setup is invaluable. It is one of the only tools on the market that will allow you to measure the success of your business online. This powerful tool will assist you in identify, tracking, and assessing all of the critical components that impact the bottom line of your business, regardless of what field or industry you are in.
It is important for you, as a business owner, to remember that what can be measured can be improved!
In measuring your site's key statistics, you will be placed in the prime situation of being able to systemically improve the performance of your business's website more than ever before. Again, I'll say that this info is almost priceless. Charts, details, and reports can all be used to steer your business in the right direction.
What kind of information will Google Analytics setup provide you with? Just a few of the tidbits you'll receive include:
Which sites or ads your visitors came from
The duration of time (stick rate) visitors spend on your site
Which keywords bring in your most profitable customers, and which don't
Which version of your landing page or copy produced the best results
Which pages and content help generate the lion's share of your profits
And so much more!
Essentially, it boils down to the fact that if you are not using Google Analytics setup properly, then you are not going to be able to generate the sales leads and conversion rates your business needs to be successful. In other words, you are losing money on a daily basis! Once you have taken advantage of what Google Analytics has to offer, you will be able to make better (read: profitable) decisions on behalf of your company.
If you need assistance on how to implement Google Analytics setup or guidance in how to interpret this information to your advantage, contact us here at Webati. We are always available via telephone or email, and we will be able to teach you the skills and knowledge you need to leverage this information to your company's advantage.
When you contact us, we will provide you with a free consultation. You are under no obligation to hire our services, but we do have hundreds of satisfied clients who would recommend that you do. Don't waste another day with Google Analytics setup on your website. Every day that you spend without it is a day that money is running through your company's fingers. It's time for a profitable change with Google Analytic assistance from Webati!