Examining the Intersection of Cross Domain Search and Conversion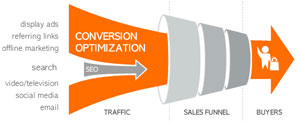 As a marketer, the chances are high that you are managing multiple online marketing programs across a variety of websites and domains. In an effort to streamline your processes, you may have asked yourself one of the following questions. What are the interactions between each of my websites? Is it likely that my clientele might convert across different domains? Do these insights hold the key to altering my clients' life time value?
Revenue Attribution, Clicks, and Cross Domain
This is what is important. It must be possible for end revenue numbers to be pinpointed and allocated to every, single touch point across your cesspool of websites. Doing so is going to enable you to alter your marketing mix as needed. For example, let's assume that have a number of AdWord and Bing Ads accounts for Websites A, G, and H. These accounts may offer the same exact products across different domains, or they may offer unique quality, positioning, and pricing.
In each case study, we are going to be interested in delving into cross product and domain selling trends. Specifically, as a marketer, you are going to need to pay attention to the approach of your business as a whole. The tracking solution that you are using will enable you to take into account how your clientele is behaving across these various domains and across multiple different products.
The Downside of AdWords
The downside of using AdWords to obtain cross domain insights is that it is not going to allow you to view cross content consumer behaviors. Only cross domain info is available for campaigns, ad groups, and keyword data, and this info is not available across multiple AdWord accounts. However, there is one loophole to this in the fact that if you have a single AdWords account where you are managing various domains, then you should be able to analyze the data it provides to determine cross domain transition paths.
The Challenges of Tracking
In a fashion similar to that of cross device tracking, tracking cross domain conversions can be downright difficult. If you are employing the use of a cookie based tracking solution, then it is also going to be difficult for you to measure conversion rates across multiple different devices, like desktops, tablets, and smartphones. This is due to the fact that each cookie is going to be set upon an individual device/browser. A similar situation occurs when it comes to tracking conversions across various websites.
To make a long story short, data is going to be compartmentalized by both website and browsing device. Unless you are willing to employ the use of advanced tracking solutions, you may not be provided with a comprehensive view of the full picture.
Connecting the Dots to Make a Picture
If you need assistance with cross domain info gathering, then Google Analytics is a great tool to have at your disposal. It is 100% free and quite simple to use. It will provide you with the insights you are looking for in regards to cross domain transition paths, and you will even be able to look into cross domain if your campaigns have been carefully tagged with one of the dimensions available through Google Analytics.
To summarize, if you want to implement a successful multi domain strategy, then it is going to be imperative for you to employ the use of a robust tracking solution. Doing so is going to enable you, as a marketer, to make future business decisions from a holistic standpoint. The technology is available to you. It is up to you to take advantage of it.