Creating and Supporting Online Communities Through Social Media Marketing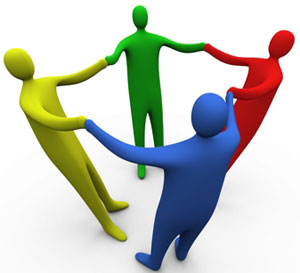 As marketers, we've been inundated with the importance of establishing an online presence for our businesses. Having an online presence is an integral part of any company's social media marketing efforts. However, if you want to maximize the potential of this channel, then you can take it one step further by creating and supporting an online community via both Facebook and Twitter. Within this community, you will provide a place of connection for individuals who are passion about the brand, cause, or product that your business provides. It also provides you with the opportunity to build brand awareness and create a cultural identity.
Finding Existing Communities
Before you consider establishing your own community within social media marketing, look to see if one with an affinity for your brand or product has already been created. An ideal example of a thriving and passionate community would be the one that has been built around the 50 Shades of Grey series. A fan created Facebook page for the series currently has more than 10,000 likes on Facebook. You might not think that this is a significant number when you consider that there are dozens of other brands with hundreds of thousands, and even millions, of likes. However, what makes this book series' community stand out is not the number of likes. It is the level of engagement that the fans have within the community.
One of the most amazing aspects about this particular community is that it was fan created. It was not sponsored by Vintage, the publisher of the book series. However, think of the marketing potential if Vintage were to contact the admins of this community with special promotions, offers, or giveaways. If you can find a community that already has an affinity with what your business has to offer, it will be much simpler than attempting to reach out and recruit new users.
Creating Your Own Community From Scratch
Creating a new community on Facebook can be tricky, but it can be done. You must have a genuine and vested interest in creating such a community. The groups that are most successful in social media marketing are those that are created around a distinct cause or purpose.
Let's use Red Bull as an example. If they were to create an online community around extreme mountain biking or skateboarding, then this image is going to fit in with the brand identity of Red Bull. It gives their targeted demographic a place where they can connect with one another, but they do not have to worry about facing an onslaught of ads from Red Bull. Periodically, Red Bull could offer promotions, sponsorships, or giveaways to promote their brand.
Creating an Online Community Through Twitter
Twitter is going to be an integral part of any social media marketing campaign. Building and fostering an online community through this platform is going to be slightly different than with Facebook. For example, they do not offer unique company pages. However, what Twitter does have to offer is unique abilities to chat with a specified community. This is accomplished through the use of hashtags. Many Twitter chats occur approximately once a week at a specified time.
Your business could very easily sponsor a Twitter chat that is aligned with your industry or brand. Be open to including some of your competitors in on the chat session. While this might seem initially counterproductive, it is going to enable you to foster a sense of community during your chat sessions. Twitter chat sessions can be directed at either fellow industry professionals or consumers.
In short, establishing and nurturing an online community through social media marketing can offer many promotional opportunities for your business. Additionally, it is going to assist in building a relationship of trust and connection for you and your clientele, which, in turn, will help to cement your clients' customer loyalty.