A Comprehensive Guide to Display Advertising With Google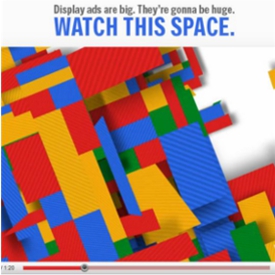 Recently, Google had gained a fair amount of attention for the hard work they have been putting in on adding the AdWords interface to Google Display Network. There are a number of new updates and features to be excited about.
In this blog post, we're going to turn our focus towards the most important targeting updates as they relate to marketers. Google's unique approach to display advertising has made it readily accessible to everyone, even those who are new to this field. With its better than ever targeting capabilities and new levels of accountability, it continues to propel the market forward.
Google & The Art of Display Advertising
The offline counterparts of display advertising, the traditional print ads, have been around for quite some time, much longer than Google has. However, what differentiates Google from other search engines is the fact that they have enabled paid search managers to enter into this field and to run display advertising campaigns with more precision than ever before. A paid search marketer is not going to have the knowledge or experience when it comes to the ins and outs of traditional display advertising, but they are able to compensate for these shortcomings by utilizing their knowledge of paid search targeting and then pointing and clicking until they have devised successful display advertising campaigns.
With the aid of Google, establishing one's self in the display advertising field is not difficult. However, to master the intricate workings of it is almost a full time job in and of itself.
Google Display Network & Targeting
The key to being successful within Google Display Network is to locate the right placements and to focus upon them. GDN is 100% concerned with placement. Once you have found the right website that is going to produce the conversion you are looking for, this placement should be worked for all that it can provide. At Webati, one of our processes for creating a new campaign involves starting with a few dozen ad groups and a handful of websites that appear to show promise.
After allowing these testing scenarios to go on for several weeks, we begin to focus our attentions on refining the performance of our most promising placements. Some of the variables that we tweak and fine tune include gender, age, and topics targeting. Afterwards, we then begin to continually seek out new keywords and campaigns to test in these auto placement campaigns.
New Changes Being Made to How Keyword Targeting Functionality Works
As a whole, search marketers are quite comfortable with using specific keywords as the launch pad for targeting that takes place within Google Display Network. However, in the last several years, the manners and methods in which keywords are used has changed significantly. Google algorithms have changed, and these new algorithms provided a method for advertisers to establish a connection with highly relevant placements as defined by themed groupings of 5-25 keywords.
With these new advancements, marketers no longer have to worry about creating and defining themes that are going to describe the sites we would like to target. All that is left to do now is devise small ad groups with tight focuses, just as we would normally do for search purposes. Because the sole basis for Google's targeting is now based upon individual keywords, we can monitor and observe how our specific KWs are performing and adjust their bids higher or lower as needed. These abilities have many potential benefits to offer.
In all of your excitement, it is going to be important for you to bear in mind that the keywords that are used within your display group are going to be treated as a broad match. This translates to a potential danger if you only use KWs with a single word. Instead, the keywords that you opt to use should contain 2-3 words minimum. It is possible to use these technique if you want to aim for broader terms, but you must also ensure that you are utilizing negative keywords and site exclusions to ensure that your investments are worthwhile and that you are not just blowing money on a fruitless venture.