3 Delectable SEO Tips For Ecommerce Stores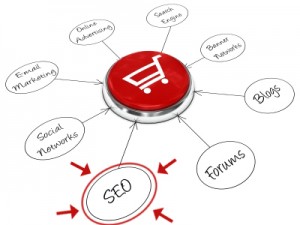 Are you looking for SEO tips for your ecommerce stores? If so, you've come to the right place. Step right up, because Webati is about to impart some of our hard won knowledge to you.
Our tips below are primarily directed towards ecommerce stores that are actively engaging in search engine optimization, and we hope you'll be able to make use of them. Feel free to leave us some tips of your own that you might have picked up over the years! Let's get started…
1) Implementing a Recommendation Engine
This form of upselling has most commonly been seen on Amazon. This is the website that should be credited with inventing the idea of recommendations during the browsing and purchasing process. Think about how many items you've been lead to click on on their website when you thought you were just searching for one item. The idea of suggestion can be very powerful to consumers. If you aren't using one for your ecommerce stores yet, contact us today, so we can building one for you!
The problem that most ecommerce stores run into when trying to build their own recommendation engines is that the engine they build creates its own variety of items to recommend, rather than ones that are related specifically to what your visitor is looking for. This is a large scale project, but we assure you that we are more than equipped to handle it.
Just to offer an example, a business we recently worked with hire us to design a recommendation engine for their ecommerce store. As a result, they saw considerable gains in their PPV, average time on site, and both bounce and conversion rates. Pretty impressive wouldn't you say?
2) Adding Relevant Links
Most websites contain a lot of pages, so adding related links can be a huge task. In regards to the enterprise scale, SEO is primarily concerned with leveraging a considerable amount of pages in an efficient manner, and these scales should then be used to your advantage. Adding relevant links can be a big task to take on, but this is where Webati can step in and be of assistance to you.
When we add related links to your ecommerce stores, there are 3 main goals that we want to accomplish:
 Flattening the Site – In doing this, it makes it easier for visitors to access URLs on your site from different points.
 It allows you to categorize relevant products together. This makes it easier for consumers to understand why certain product groups
 Visitors to your site are handed links to items that are specifically relevant to them. For website visitors, this can be a valuable navigation too.
3) Bounce rates need to be correlated to your entry page.
This is an excellent tip for those who work in analytics. Search traffic reports can be generated to provide you with info on how well your search term relates to the corresponding entry page. Analyzing the bounce rate of the search term will show you how the relevance of it to the page combination can be improved. The primary question here is to ask yourself which organic search terms are providing visitors with a path to the wrong pages. Once you have this information in hand, the corresponding webpage can either be optimized for relevancy, or you can determine if a conversion issue is at the roots of your problem.
If you are willing to put in the hard work, then this information can literally be a gold mine for your ecommerce stores. There is a reason why analytics is such a valuable tool, and this is just one prime example!