Website Maintenance By Webati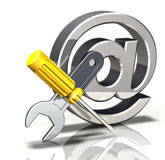 When it comes to website maintenance, Webati strives to provide our clients with a comprehensive solution, so that you can eliminate the hassle of having to deal with frustrating middlemen and multiple agencies each time you need something simple done. Our website maintenance services and packages are designed to enable our clients to expand their business's website and maintain a formidable online presence at the same time.
Website maintenance from Webati is going to enable your business to remain in par with the current trends and technologies in your industry and keep your website free of troubling technical issues. We believe that your business's website is more than simply just an information portal. With the right team of professionals behind you, your website can increase your company's Internet exposure, generate leads that are converted into actual clients, and build brand awareness for your business. Each day that your website spends without fresh, relevant content is a day that you could be losing money.
Our average client is a business who spent a considerable amount of money to have their website professionally build 3-5 years ago. However, as their business has expanded, restructured, and offered new products and services, the business's website has not grown with the company. However, your business's website acts as an employee on your behalf 24 hours a day, 7 days a week. It needs to be constantly updated and maintained through website maintenance to be truly representative of your business.
Our website maintenance services come in a wide range of varying degrees. Whether you would like for us to consolidate and target your marketing efforts, increase online sales, or just cement your reputation as a leading authority in your industry, we can do it all! Here are the top 4 reasons why you need website maintenance from Webati:
Your current web designer is unequipped to deal with long term maintenance requests.
Having web copy and content that is up to date, fresh, and relevant is going to increase your position as one of the leading figures in your industry.
Clients are going to notice if your website's copy is not current. When they see that you are putting forth the effort to be relevant, they are going to be much more likely to entrust you with their business.
Webati is one of the premiere Internet marketing companies on the West Coast. When it comes to website maintenance, you will receive nothing less than the best in maintenance, and you will also have access to a professional team of some of the best developers and copywriters in their field.
Give Webati a call today to see what our website maintenance packages can do for you! Your initial consultation is free, so let's get started. We are waiting for your call!