The Top 3 Google Analytics Metrics You Should Be Watching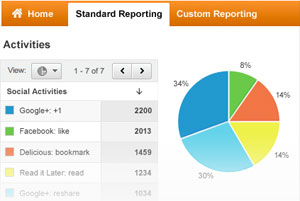 If you are a first time using logging into Google Analytics, the setup can seem overwhelming. From a number of new and interesting things to see to so many different options for tweaking the data, how do you know which Google Analytics metrics you should be paying attention too?
Here, at Webati, our opinion is that you are the primary person who decides what metrics are going to be the most valuable for your business. So how do you pick and choose?
Before we begin discussing reports, you need to familiarize yourself with Google Analytics dashboard. It's important to make sure that you are using the most recent version of this program, Analytics 5.
Metric #1 – Visitors
Knowing how a visitor is using your website is going to be valuable. You can take this information and use it to improve a visitor's experience on your site. For example, knowing how much time a person is spending on your website and the number of web pages they look at before deciding to leave is info that can be used to improve your site's subscription process. From the Visitor Overview metric of Google Analytics, you will be able to see a quick summary of this data for your website over a given period time.
At Webati, there are 5 primary metrics that we pay close attention to on this summary report:
 Number of visits
 The amount of unique visitors
 Pages per visit
 Average amount of time spend on the site per person
 Bounce rates
It is common for us to hear clients ask what their bounce rates should be or what the average amount of time is that a person should spend on their site. The truth is that each industry is unique in its own right, and there are going to be different conversion types for different industries. The best advice is for you to keep an eye on visitor metrics to track any major ups or downs their might be. For example, let's say that you implemented some changes to your website that you thought would increase traffic. Instead, you've seen the amount of traffic driven to your site sharply drop. The visitor metrics of Google Analytics is going to allow you to monitor these changes, so you can adjust them accordingly.
Metric #2 – Sources
The sources that are driving traffic to your website are going to be another hugely important metric that you need to pay attention to. For most brand new websites, their primary sources of traffic are going to be driven from branded searches, direct type ins, and paid advertising. Once optimized changes have begun to be made to your website, you will see that the amount of organic traffic begins to grow, which means that your company will have to spend less money on advertising.
The sources report overview from Google Analytics is going to allow you to see just exactly how people are finding your website. At Webati, we believe that it is most beneficial to have a good mix of organic traffic, referrals, and paid advertising. For example, let's say that the majority of your traffic is derived from organics. If Google were to implement new updates to their search algorithms (i.e. Panda), it can adversely affect the amount of traffic your website receives, which results in a loss of money for your business. However, if you have a balanced approach to attracting traffic to your site, then a Panda update or something similar is not going to hurt your business nearly as much.
The Sources metric in Google Analytics is going to allow you to see exactly how traffic is being driven to your site, so that you can easily optimize it.
Metric #3 – Landing Pages
The Landing Pages metric from Google Analytics is critical to understanding whether or not the information you are obtaining is matching the specific needs of the traffic you are receiving. For example, if you have pay per click campaigns running for your site, then you need to make sure that it is generating a source of revenue for your site, as opposed to just sucking your wallet dry. Having this information on hand is also going to allow you to optimize your landing pages, so that it can assist visitors to your site in finding exactly what they are looking for.
However, pay per click marketing is not the only thing you need to pay attention to on Google Analytics. For example, if the organic traffic that is being driven to your website has a high bounce rate, then it is entirely possible that the keywords and content you are optimizing are not matching the needs of your visitors. The Landing Pages metric is a great method of knowing whether or not your site's landing pages need to be improved or not.
If you are finding the information on Google Analytics to be overwhelming, contact us today here at Webati. We can assist you in becoming comfortable with this useful tool and help you develop a marketing plan for your business that will allow you to get the most out of what Google Analytics has to offer.