The Benefits of Emailing Receipts to Your Clients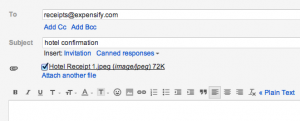 As marketers, many of us are familiar with the benefits of sending online receipts to our clients who have made a purchase online. It offers value as a transactional record. However, what many retailers do not understand is the value of emailing receipts to clients who make in store purchases. While we understand that this is not feasible for online only stores, companies with brick and mortar stores should consider the email marketing value of this option.
The Power of AcquisitionLet's say that your customer chooses to receive a receipt sent to them via email. As a result, your business is going to gain a valuable opportunity for email marketing by asking them to opt in to your marketing emails. This can make an ideal method for acquiring new clients. In its very nature, the email remains purely transactional, but it also provides you with the perfect platform to educate your clients about the benefits of opting in.Doing so also offers benefits for the client as well. For example, having the receipt stored on a smartphone or tablet makes it easy for them to locate should they need to make a return in the future.
The Ability to Track a Customer's MovementsOne of the primary advantages that email marketing has to offer is the ability to monitor the movements of your clients. For example, a number of receipts are going to include an offer for a promotion or discount for a client if they complete an online survey. Many of our clients who are including this call to action in their email receipts are experiencing significantly higher conversion rates through their email marketing campaigns.
Marketing RepurposedSending a receipt via email also provides a business with the email marketing opportunity to provide additional information about the product that the client purchased, showcase accessories, and market other relevant items. This channel can also be used to send a request to a client to rate and review the item that they have purchased. In doing this, the rating or review is going to drive more traffic to your website. As a result, brand awareness will be built for your company.
Data ProfilesIn addition to allowing you to repurpose certain forms of marketing, having a client's email address is going to enable you to expand your knowledge of the client's profile. A physical address can easily be obtained through a reverse append. With this physical information, promotional flyers and brochures can be sent to clients that are guaranteed to attract their interest.

As a part of your email marketing campaign via digital receipts, their email address can be used in a manner, similar to that of a loyalty rewards card, to reward a customer for repeated purchases. It is a quick, simple, and efficient method of ensuring future business.