The Benefits of Business Stationery Design From Webati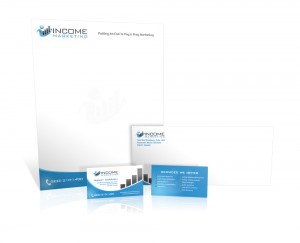 Before we begin discussing the benefits of business stationery design from Webati, let's first look at how business stationery is defined. At Webati, we believe that the term encompasses business cards, letterhead, and envelopes. Our professional designers will take the logo that was designed for your business and ensure that the look and feel is continued throughout all three pieces. Once the design work is finished, you'll be provided with the artwork and font files to take to your printer.
Let's be honest. Nothing is going to make your business look more professional and credible than business stationery design from Webati. At our company, we understand how to uniquely apply colors and fonts to your stationery to create an image that your clientele will be able to remember easily. Similar to our custom logo design process, we will provide you with multiple design concepts to choose from, and we will be able to fine tune these concepts to create an image that is to your liking.
You will be receiving the dividends of business stationery design each time you hand out your business card or send a business letter. Most everyone, at some point, has seen a cheaply designed business card or received a letter with a generic letterhead. It often makes you wonder how much effort that company puts into projecting a professional image.
In contrast, business stationery design from Webati is going to create a positive, last impression in the mind of your clients and business contacts. They will know that you take pride and care in your business's image, and they will be much more likely to entrust you with their business in the future.
Ordering business stationery design from Webati has never been simpler. You can even save a considerable amount of money by combining your needs for business stationery design and custom logo design into one package. We have helped hundreds of satisfied clients receive stationery design that they love. Give us a try. We offer a guarantee on our work. Visit our website to see some of our client testimonials. We look forward to working with you in the future!