The 3 Types of Content You Should Be Generating But Probably Aren't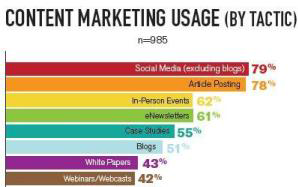 When performed correctly, content marketing can be one of the most valuable tools in your arsenal. There is a plethora of different content that can be used to your advantage. As one of the leading content providers at Webati, we understand that many of our clients struggle to produce content that is both applicable to search engines and engaging to clients.
There are two primary things that you are going to need to bear in mind when you engage in content marketing: the format of the content you will be writing and the topic. For example, a 500 word article might be the most effective means of reaching one audience, while a short video might be more effective in reaching another.
There are several kinds of content that most marketers tend to push to the side and ignore. In our opinion, these are the 3 kinds of content you should be generating, but probably are not.
#1 Pricing
The chances are that, during the research you've conducted on your product and the keywords associated with it, you've come across some info that is going to prove that people are also searching for the cost and pricing of that particular product. Pricing is one of the most important factors that people take into account when deciding whether or not to purchase a product or service. In our experience, we've found that many of our clients are afraid to discuss pricing in their content marketing efforts, because they fear that consumers are going to assume this is the exact price they will pay for the product or service.
In reality, this isn't the case most of the time. On your business's website or in its blog, you do not have to specify exact cost. Instead, why not consider suggesting ranges or estimates? In all honesty, it is going to be to your advantage to offer this info to clients. For example, it is going to offer you a competitive edge in your specific market if you are the only creating content marketing surrounding pricing.
#2 Making Comparisons
Comparison shopping is another tactic that many consumers use before they make a final purchasing decision. We have noticed that a small percentage of companies create content marketing that compares their product to that of a competitor. In all honesty, it doesn't matter if you mention a competitor's product. If done correctly, your company's product or service is going to be positioned to come out on top regardless.
When was the last time that you bought a new car? A cell phone? The chances are high that you engaged in a little comparison shopping and read multiple product reviews. Obviously, consumers are looking for product comparisons, so give them what they are looking for. The content you generate is going to be found by those who are looking for it. If you don't take advantage of this opportunity, you competition is by creating content that makes their product look better than yours.
#3 Interviews
Finally, we have reached interviews. This is a relatively simple method of generating great content for your target audience. It is also going to establish your company as the leading authority in your industry. With interviews, you will be able to choose between creating content that is either text or video based. You can begin generating interviews by reaching out to established experts in your field. You don't necessarily have to meet with these people in person. For example, for video based content, Skype is an excellent tool for conducting interviews.
Text interviews can be conducted through email. Try creating a survey of 10-15 questions and asking the expert at hand to answer as many as they are comfortable doing. Once done, you have a ready to use blog post. As an added bonus, interviewing experts in your field is going to increase your own knowledge and reputation as an expert.