See What Custom Brochure Design Can Do For Your Business!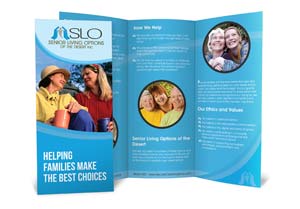 An important component of custom brochure design is having attractive graphics. However, it is important to remember that looks are not everything! The fact that Webati understands this is one of the numerous factors that sets up apart from our competition.
The logo, header, and the look and feel of your business's brochures are important. The visual components of a brochure should be aesthetically pleasing, and it should be something that you, as a business owner, are proud to have represent your company. The problem arises when a business owner makes the mistake of evaluating the effectiveness of a brochure on its looks alone.
The primary mistake that business owners make when choosing a company to conduct their professional, custom brochure design is simply paying attention to a few flashy samples in an online portfolio and then deciding to go with that company. However, the overall layout and design of the brochure need to truly serve the needs of your business in order to be viable.
Custom brochure design should accelerate the sales of your company, generate sales leads, and help your business meet other objectives. Again, this is what sets Webati apart from our competitors. When you choose to engage our services, we guarantee to produce custom brochure design that will:
Differentiate and establish your corporate identity to your target audience.
Convey an image of professionalism, trustworthiness, and credibility to your clients.
Work to accelerate the sales of your business.
Did you know that all of this can be achieved through custom brochure design. This is because Webati is clearly able to look at the bigger picture here. We don't take into account just where you are at the moment. We also look at where you want to be in the future.
It is our pledge to you that your clients will be blown away by the look and feel of your custom brochure design. Your brochures will reflect your company's vision. We will also work to ensure that the design of your brochures is completed in such a fashion that your business stands out attractively. When you choose the custom brochure services of Webati, you will receive the best of both worlds in terms of layout and design and attractive visuals.
Give us a call today or email us, so that we can set up a free, initial consultation. We guarantee that you will love what Webati has to offer.