Sales Page Design and Creation From Webati!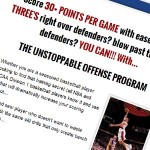 At Webati, we are Internet marketers ourselves. We actively strive to advertise and sell our services to other businesses. Because of this, we know exactly how difficult it can be to create the perfect sales page for your business. With our years of hard won knowledge and expertise, we are proud to say that we've become quite proficient in sales page design. We have hundreds of satisfied clients to attest to that fact!
When it comes to the online marketing world, the caliber of the product or service that your business is trying to sell is not going to matter nearly as much as the caliber and quality of your sales page design. Unlike in the real, physical world, a potential client is not going to be able to feel, touch, see, or test your product before they purchase it. Therefore, it is important for your sales page design to convey this message for you.
The key to great sales page design is rather simple. A visitor to your site is going to read your sales copy. If they like what they see, then they are going to purchase your product or service. You don't have to be a rocket scientist to see how important your sales page is. Broken down into basic terms, the better your sales page is, the more money your company is going to make.
If we had one piece of advice to dispense to future clients, it is that you need to allocate a significant portion of your budget towards your sales page design. At Webati, we certainly strive to keep our prices affordable, but generating revenue on the Internet is going to boil down to one of two factors: having a high quality product and having a high quality sales page. At Webati, we have been engaged in sales page design for many years. It doesn't matter whether you are selling adult diapers or vegan peanut butter, we can produce the effective sales copy you are looking for.
If you want your sales page design to be effective in generating profits for your company, your success is going to hinge on two elements: professional quality graphics and even better sales copy. You can go the difficult route by trying to hire a copywriter, graphic designer, and formatter and then try to have them work together, or you can choose the sales page design services of Webati. We have our own in house team of professionals who will work seamlessly together to create the sales page that is most effective for your business.
Give us a call today to set up a free, no obligation consultation. Give us a call on the phone or fill out the contact form to get in touch. As soon as we hear from you, we'll arrange a time to conduct and in depth interview to assess your needs and what you are looking for.