Magneto Store Development From Webati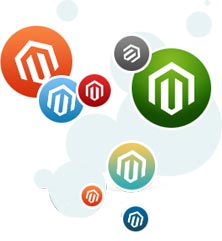 At Webati, we pride ourselves on offering a wide range of services related to e-commerce development, include Magneto store development. Working on the Magneto e-commerce platform, we pay particular attention to store design, installation, and configuration. The advantage to working with the Magneto platform is that it is incredibly versatile and scalable, which makes it ideal for working with a wide range of differently sized companies. Additionally, Magneto has the advantages of offering unsurpassable safety and reliability.
Our experienced Magneto store development programmers are ready to begin working with you to create customized solutions right away. All that we need you to do is tell us is what sort of business you have and the type of products that you plan to sell. Our professional developers and designers will work closely with you to perform a detailed analysis of your business needs, so that they may design the perfect e-commerce solution for you.
Webati is ready and eager to work with you on Magneto store development. We immerse ourselves deeply in each project, and with our unique approach, you will be able to rest assured that your e-commerce store will be compatible with all major browsers. The hallmarks of Magneto store development from Webati are convenient usability and individualized design.
Due to the fact that Magneto supports a wide of array of different payment methods, our Magneto store development will enable your business to reach new levels of profitability. With a variety of different payment options to choose from, your business will appear more attractive and be more accessible to a wider base of clients. With many years of e-commerce development experience behind us, Webati will be able to integrate your online store with the preferred payment methods of your choice, which will open up a world of new opportunities to your clients.
If your current online store lacks the important functional capabilities it needs for you to be successful, our personalized Magneto store development can remedy the situation. It is our pledge to you that our team will develop new modules to increase the current capabilities of your site's online store. If you are curious as to what Magneto store development from Webati can do for you, we would encourage you to contact via telephone or email today. It is our guarantee that it will be one of the best investment decisions you have ever made on behalf of your business.