Email Marketing – How to Choose the Best Responsive Layout Part 2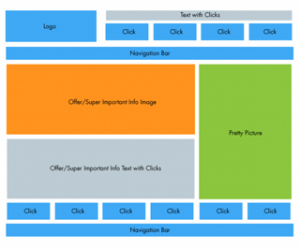 Yesterday, we started talking about how to choose the best responsive layout for email marketing. We briefly ran through the 4 most popular types of responsive email layouts, and today, we want to start discussing navigation when it comes to responsive emails.
Navigation is one aspect of responsive emails that poses a unique question. How should an element, which traditionally falls into the top of the message (where real estate is considered valuable) be handled in a manner that requires low direct value? From our own personal experiences, we have learned that specific implementation cannot always be applied to email; however, there are a number of things that can be learned from the basic principles.
When specific implementation is refined for email marketing purposes, there are two common and two uncommon navigation options that most email designers will end up using. Employing these options enables the designer to avoid the standard, inefficient navigation nets of 5-10 categories.
The Common Options
Hiding – This hides the navigation links entirely when the email is being read from a mobile device.
Reduction – All of the navigation links are hidden with the exception of the two that tend to perform the best. This particular approach offers the ideal balance of providing proven click opportunities with the minimum amount of layout needs.
The Uncommon Options
Moving It – The navigation links are moved to just below the primary content or to the very bottom of the message.
Rolling It Up – This option requires a designer to employ the use of a rollout menu. The rollout menu expands when it is tapped, but it also enables the designer to preserve valuable real estate without sacrificing immediate access.
A preheader, which is also found at the very top of an email, is another element that takes up valuable real estate space, but in mobile viewing mode, it offers precious little value. There are a few standard components to a preheader. This list includes snippets, view as webpage links, social sharing links, and more. Each of these elements, when it comes to viewing an email from a mobile device, loses a considerable amount of value. The current trend is for email designers to hide the preheader entirely.
To learn more about responsive email layouts and how they can benefit your email marketing campaign, contact us here at Webati today! Our experienced and professional designers will work with you to create responsive emails that evoke the response you are looking for from your targeted demographic.