Email Marketing – How to Choose the Best Responsive Layout Part 1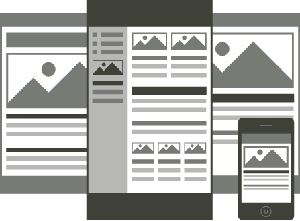 For email marketing in 2012, a new focus has been placed on the concept of responsive email. In actuality, this technique is far from new, but as an increasing number of people begin to experiment with it, patterns are beginning to emerge in both organizations and layouts.
In terms of email marketing, responsive layout patterns assist marketers aiding the manner in which they understand the interactions between subscribers and brands. Because of the valuable information this supplies, new investments and energies are being poured into responsive email layouts.
Different Kinds of Responsive Email Layouts
Today, we wanted to take a closer look at the four most commonly used types of responsive email layouts.
Shrink Wrap
This is the layout that is automatically adopted by most newsletter layouts and format messages. Essentially, the container of the message becomes skinnier, and the content it holds reflows to wrap.The text content is generally what holds the value of newsletter format messages. Easily, you can see why scaling copy and headlines is important in order to ensure that the value is instantly accessible by readers. Images are automatically scaled within the message container, and the text images are resized to fit.The primary benefit of using the shrink wrap layout is that it is fairly simple to implement. If you need to convey a message that has a simple structure, and whose value is primarily text based, then this is the email layout that you should choose.
The Column Drop
The column drop is another layout that is commonly found in most emails. In this particular layout, one or several of the columns are moved to rest beneath the other columns. Depending upon the number of columns you need to add, you may need to engage in a little manipulation. This email design is recommended for those who will be viewing the email on a mobile device. The primary benefit of this layout is that it encourages readability, and it provides a method of keeping the flow of ideas within the message strong with a minimal amount of effort. It is our prediction that this responsive email layout is going to remain popular for some time to come, because it is the one that readers are the most familiar with. It is important to exercise some caution when choosing this type of email layout because it has the potential to become boxy if it is not designed properly. The wow factor of the column drop layout is its ability to provide a natural transition between different portions of content.
The Grandfathered Column Drop
As the name indicates, this is a subset of the traditional column drop layout. It is another pattern that works well for those who are reading email via smartphones. In most cases, this layout is going to appear with an evenly split, two column layout already situated, but the effect is found in the fact that the right hand column will fall below the left hand column. If your focus is primarily upon delivering text content, rather than images and other ad ons, then this is the option that you want to choose. It is especially ideal for those who have long messages that they want to make more readable.
The Layout Shifter
Of all responsive email patterns, this is the one that we tend to see the least often. It offers the most dramatic alterations in terms of layout changes, so most marketers who choose this layout are going to choose it primarily for aesthetic purposes.
We're going to take a break here today, but tune in tomorrow when we move on to navigation and other exciting aspects of responsive email marketing!