Sales Funnel Development
Are Your Sales Lacking?
The Problem Could Be Your Sales "Funnel"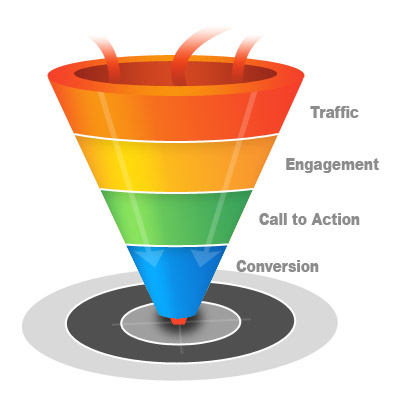 The purpose of your online business is to produce measurable results – which typically comes in the form of sales and profits.
Thus, it's obvious that if your website or sales funnel is not producing sales – it needs to be revamped and enhanced until it produces the results you're looking for.
Remember, today's website visitor is being bombarded with more messages, more advertising, and thus has a shorter attention span than ever before.
Fortunately, our team at Webati has extensive experience creating compelling sales processes in many different online industries, and we know exactly what it will take for YOU to get the attention of your target audience.
As such, one of the first things we do when we begin working with you is to restructure and reword your website and overall sales funnel in a way that makes it virtually impossible to ignore.
This in turn moves the visitor through your sales process and brings him to the point where he's psychologically and emotionally ready to buy.
The sales processes and funnels we create help to:
Multiply your number of qualified leads
Bring in dramatically more sales
Increase the 'stickiness' of your site
Produce more conversions and higher 'visitor value'
Best of all, everything we do is based proven/tested marketing principles that we have found to work for ourselves and our clients.
Simply put, there is no guesswork involved.
Never lose sight of the fact that sales should be your #1 focus… IF you want your business to grow, stand the test of time… and ultimately give you and your family both the lifestyle and security you deserve.
Call +1 (866) 580-2620 or CLICK HERE to see how Webati can help you design a tested sales funnel process that multiplies your conversions, sales and profits in the shortest possible time.
Contact Us Today To Get Started!