Magento Store Development
The Next Big Breakthrough in
E-Commerce Store Development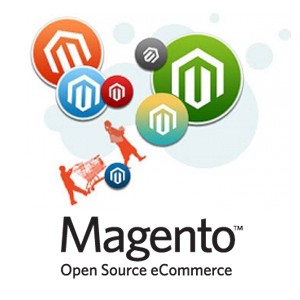 It doesn't take a genius to see that E-Commerce is exploding all over the world.
In fact, you'd be hard pressed to find a business that doesn't have an online presence these days… because it's essential to gain an edge over the competition.
With all this increased demand, many E-Commerce development technologies have been developed in order to better serve the needs of these business.
One of these technologies is Magento, and indeed it's one of the top E-Commerce website development technologies we've ever seen.
Essentially, Magento is a fully open source, customizable platform that offers extensive features, many of which are not found in other systems.
Magento stores can be both affordable, yet at the same time deliver similar quality and user experience that you might find in far more expensive solutions.
Magento stores tend to me more user-friendly, which means they are easier to navigate.
But that's on the customer side. As an owner and administrator of a Magento store, you'll often find them far easier to manage than other E-commerce solutions.
Magento services are overall very centered on the products being showcased, and give you a wide range of possibilities when it comes to marketing and showcasing your products in the best possible light. (Which of course, aids you in making more sales.)
What's more, Magento it's easier to select a proven theme for your store – or create a new one, because again, Magento is open source and very easy to program for. We have an expert team standing by and ready to work on a Magento site, if it's determined to be the best fit for you.
Another advantage of the Magento platform is that it allows you to easily incorporate a variety of product descriptions and prices into one store – so that you can cater to customers of all languages. Having an international online store can be incredibly simple and painless to manage with Magento, and gives you the ability to accept a wide variety of credit cards and payment options within one central place.
Magento helps streamline your customer management, in that it allows your customers to create profiles where they can track their order information, shipping and other details that might normally be done through customer service.
Ultimately, Webati has specialized designer/developers who focus almost exclusively on Magento development and programming. They have the necessary level of knowledge, skill and experience in order to design a solution that perfectly meets your needs.
Remember, only true Magento experts can design a perfect shopping cart with all the required features. They ensure a perfect, fully functional E-commerce store and customer experience for you.
So if you're curious or interested about whether Magento is for you – or you'd like to get a custom quote based on your specific needs, just call +1 (866) 580-2620 or CLICK HERE to have one of our consultants contact you.
Contact Us Today To Get Started!