Custom Brochure Design That Works!Custom Brochure Design That Works!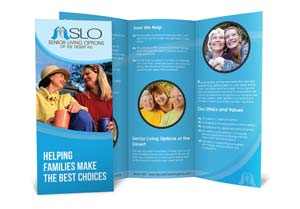 Graphic design can encompass many different facets. Having an attractive graphic design is going to be a critical component to the success of your business, and this includes custom brochure design from Webati. Regardless of what you are looking for design wise, we guarantee that we will be able to create the look that you want.
Did you know that brochure is the French word for sales?
Ok, maybe it isn't. In reality, it is the French word for stitch. This is because the first brochures that were ever created were separate pages that were literally stitched together to create a single document. While brochures might seem simple, you would be surprised at the amount of work that goes into custom brochure design. A professional design is required to ensure that a prospective customer has access to the information in the unique manner that you desire.
When you choose to use the custom brochure design services of Webati, we will:
Create the layout.
Devise and implement an arrangement of data and design elements that meet your unique tastes.
Provide you with hard copies of the final product to allow you to print out as many copies as you would like, wherever you would like too.
This arrangement is what allows us to keep our prices among the most affordable on the market today. For an affordable price, you will be provided with a document that truly represents the essence of your business and the message you are trying to convey.
If you are interested in obtaining custom brochure design services from Webati, we would encourage you to contact us today either by email or telephone. We will schedule a free initial consultation with you to discover what your requirements for your brochure are. Let us emphasize that this consultation is free. You are under no obligation to hire our services, but we would encourage you to check out what hundreds of our satisfied clients know – that we are simply the best when it comes to custom brochure design.
While we're at, may we suggest that you allow us to also offer our other services, including custom designs for banners, letterhead, logos, and much more, at the same time? By bundling our services together, you can save a considerable amount of money on your custom brochure design.
Contact us today and let's get started!