Business Stationery Design – Making a Great First Impression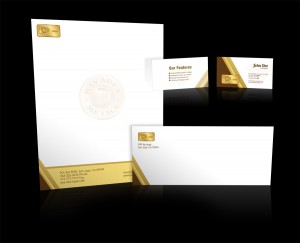 At Webati, we understand that in order to be a successful business owner, it is the small details that are going to make a great first impression on clients. This is particularly important if your business is going to gain a competitive edge on the competition. Just as you would want to have a smiling, welcoming receptionist at your business's front desk, business stationery design from Webati is going to help you make that memorable first impression. A well laid out and professionally designed stationery letterhead is going to be critical to doing so.
One of the best aspects of business stationery design is that it is flexible and adaptable. The designs we create for you can be modified to meet any unique needs that your business might have. This includes the utilization of personalized letterheads, business card design, and other options that are going to make your business stand out.
With the assistance of one of our professional designers and a printing press, the number of options we can present you with will be endless. Whether you prefer a sleek, minimalistic look or a little splash of color here and there, we will take your personal preferences into account during the design process. In particular, we take special care when it comes to business stationery design for business cards. Business cards are the way that you are going to be remembered by business contacts, so these cards must be truly representative of your personality.
When working with us to create custom business stationery design, there will be a number of enhancements that you will be able to choose from. For example, business card holders and gold leaf foil are just a couple of the options you can choose. The fancy little extras in the design may be just what you need to stand apart from your competition. Even if you are just sending a simple letter to a client, professionally designed letterhead can truly make your letter stand out.
Arguably, letterheads are one of the most critical aspects of business stationery design. It needs to be memorable and be a true representative of your business's personality. When it comes to designing letterheads, we will work closely with you to achieve the right design, whether it be simplistic and straightforward or abstract and unique.
The fact that there are so many options and designs to choose from is half of the fun of working with Webati. Contact us today and let's get started on your business stationery design!