5 Ways to Up the Ante of Your Content Marketing Efforts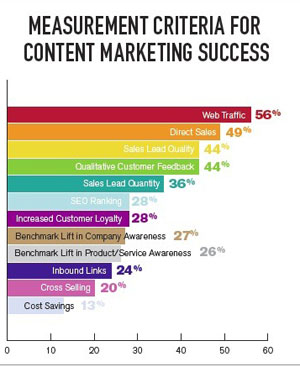 About 6 months ago, IBM published a study that revealed that approximately 80% of corporations that begin a company blog never make past more than the first 5 entries. These findings relate just to blogs. Think about other forms of social media marketing. There are Twitter accounts, Facebook pages, and YouTube channels that are almost never updated. Often times, businesses will rush to adopt the latest social media platforms as a part of their content marketing efforts, but they neglect to routinely update these channels of distribution. If you are regularly publishing content, then you are, by all definitions of the word, a publisher.
Content marketing is no longer solely concerned with paid advertising. There are many forms of free media to choose from nowadays. However, having your own media platforms presents a new set of challenges. You must continually update the content in these channels so that it is relevant to the people who are searching for it. It can also be a challenge to fill these blank pages with the content you need (i.e. blog posts, profiles, etc.). To have a successful content marketing campaign, your content is going to need to be updated on a regular basis, not in sudden, infrequent bursts of enthusiasm.
At Webati, we frequently devise content marketing campaigns for our clients. We understand that these challenges are nothing new. If you want to be successful at the content marketing game, then you are going to need to start thinking like a publisher. Here are 5 tips we've learned over the years that are guaranteed to up the ante of your content marketing efforts:
Be familiar with your audience.This might seem like an obvious piece of advice, but the importance of knowing your company's targeted demographic cannot be stated enough. Are you marketing to customers at large? Peers in the industry? The media? A combination of these options? Knowing who your audience is going to allow to choose topics and tailoring messages that are attractive and engaging for your target audience.
Determine and define what your key themes and messages will be.You already know who your content marketing efforts are geared towards now. What is the message that you want to convey to them? You should not focus solely on the products and services that your company offers. You must think of how they will be applicable to your clients in real world scenarios. For example, if you own a local business, then the message and themes you convey should be tailored towards those in your community. Use your tone of voice and your personal knowledge to create effective themes and messages.
Determine what your frequency framework will be.Many freelance writers thrive off of writing on deadlines. In the content marketing business, it is known as "feeding the beast". While you do not have to update a blog, Facebook page, or Twitter account on a daily basis, but doing it just once a month is not going to be sufficient. Therefore, it is going to be important for you to create a schedule for how often you are going to update the content of your distribution channels and make sure that you stick to it. Try to create a reservoir of potential content updates, so if you find yourself up against deadlines with no content, you will have a pool of existing ideas to choose from.
Create a detailed editorial calendar.An editorial calendar is going to have a direct correlation to your business's frequency framework. For example, in our community, the "Dear Abby" column is run every Thursday. In a similar fashion, mapping the content in conjunction with your frequency framework is going to be critical to producing relevant content on a regularly scheduled basis.
Establish guidelines for your content contributors.Finally, in order for your content marketing campaign to be successful, you should not go at it alone. You may choose to hire the services of a company like ours, or use your own team of in house writers. There are a number of options when it comes to choosing content contributors.

However, when you are choosing content contributors, it is going to be important for you to firmly establish guidelines for your writers. When you establish what your guidelines and expectations will be, you will be surprised at just how much superior content is going to be created for you, rather than by you.