5 Tips For Optimizing Local Listings For Local Search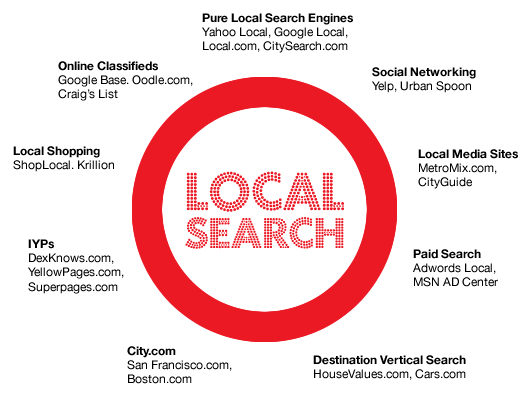 With the recent emphasis and attention paid to Google's new Local + listings, an increasing number of clients at Webati are asking how much focus should be placed upon keywords that include a local term versus the typically generic keywords of the past.
From the point of view of local search optimization, it is going to be critical for local business to include local terms in their site content, meta tags, and link building activities. The reason for doing so is to provide Google with info, so they know where your business is located and what communities your company serves. This info is then used to include your company as a search result for relevant searches.
Local search is quickly becoming an integral part of the marketing landscape. Here are a few tips for business owners on how to optimize their local listings for local search:
According to recent surveys, approximately 60% of users who engage in local search said that local listings with eye catching photos were more likely to enjoy their business than companies who did not. To make your business stand out from other local listings, choose the best photo of your business to serve as your primary profile image. This is also going to assist you in claiming and enhancing your position within Google Places listings.
In the same surveys, only 21% of younger users were likely to include a local modifier in the terms they were searching for. In comparison, 63% of older searchers were likely to include one. From this data, we can surmise that if you are targeting a younger audience, then you should leave local modifiers for your keywords out of the picture. However, if your business targets older users, then the KWs used in your site content should contain local modifiers.
60% of people who engage in local search add a town or city name to their search time. Roughly 42% of these same searchers will add a zip code. A local modifier consisting of a town or city name is going to bring more traffic to your site than a zip code local modifier. However, if you want to have a well rounded SEO campaign, then the content of your site should be optimized for both.
Other valuable information that these studies revealed was that men were more likely to search for local terms including a zip code. On the other hand, women were more likely to include a town or city name in their local modifiers. Depending upon which gender your business primarily caters too, your optimization efforts should include the appropriate local modifiers.
Finally, when it comes to local search, only 13% of users are going to conduct a search that includes a street name. Consequently, your efforts at street name optimization should be kept to a minimum. Just make sure that you have street address listed in your Contact page and that the information is not being placed in an image file, so that it will be machine readable.