5 Simple Methods of Encouraging Others to Link to Your Site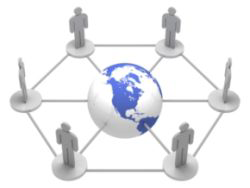 Around the Webati offices, we often refer to link building as having something of a domino effect. In theory, a solid, dependable link should lead to other links of its caliber, correct? The question is, do you pursue your links with this theory in mind? Everyone's guilty of doing it. There are occasions where a link is simply going to be a link, and that is where its story ends. However, in light of recent Google algorithm updates, many Internet marketers have been encouraged to clean up their act a little.
Building links is about building relationships, and you want to ensure that the ones you do cultivate and develop are of high quality. Sometimes, the simplest methods of garnering high quality links are the most efficient ones.
Without further ado, here are 5 simple tips for encouraging others to link to your site!
1)   Cast a firm eye upon your current links, so you know what else you should be promoting.
There are a number of tools that are going to enable you to do just that, including WordPress dashboards, Webmaster Tools, and Google Analytics. You can use almost any kind of analytic tool that you like. What you should be paying attention to is your inbound links. Keep an eye on these links. If they turn out to be decent ones, post a comment on the site. Thank the webmaster for their support. Tweet a link to the article that is promoting you. Driving traffic to sites that link to yours is, in turn, going to drive more traffic to your site.
2)     Monitor your site's social mentions.
You can choose to either monitor your site's social mentions manually, or there are a number of great metric tools that you can choose to invest in. When someone references you in a Facebook post or tweets an article you have written, take the time to tell them thanks for it.
If a fan happens to mention you as being a leader or expert in your field, try and find some method of returning the favor. Doing so is going to assist you in creating a group of dedicated followers who are going to socialize content on your behalf. Returning the favor is going to keep them happy, and it will make them feel like you truly appreciate their efforts.
3)     Promote others' content.
We couldn't phrase this anymore simply. It goes hand in hand with tip #2, but at Webati, we are huge believers in promoting others' work that is relevant to yours and of high quality. In some respects, it could be considered simple flattery. In others, it is going to be paying it forward. Find a handful of admirable people who are doing great work in your industry and promote their social activities.
4)     Grab the attention of industry leaders in your niche.
There are currently a number of different influencer tools on the market today, but if you tend to be quite active in social media, then it will be simple to identify the individuals or brands that you would most like to connect with on a business platform. While you can sit back and hope that they eventually notice your content, there's absolutely nothing wrong with tagging them in a post or twee to grab their attention.
5)     Focus on getting the attention of the little guys too.
While it's exciting to think about getting in with the big names in your industry, it is the everyday man that is going to assist you the most. Accounts that are trying to connect with may seem small and insignificant in the broad scheme of social media, but do not ignore them! These are going to be the people who are quicker to ask for an interview, ask you to write a guest post blog, or simply post a status or tweet mentioning you.
At Webati, we have seen this happen many times over, and we've met some wonderful people and amazing business contacts, do don't be afraid to reach out to the little guys!
Link building is about building relationships, so make the most of the opportunities you have. We guarantee you won't regret it!